Product Features
Your SaaS apps organized around you! SaaSConsole is the easiest way to manage groups of users and collections of SaaS apps.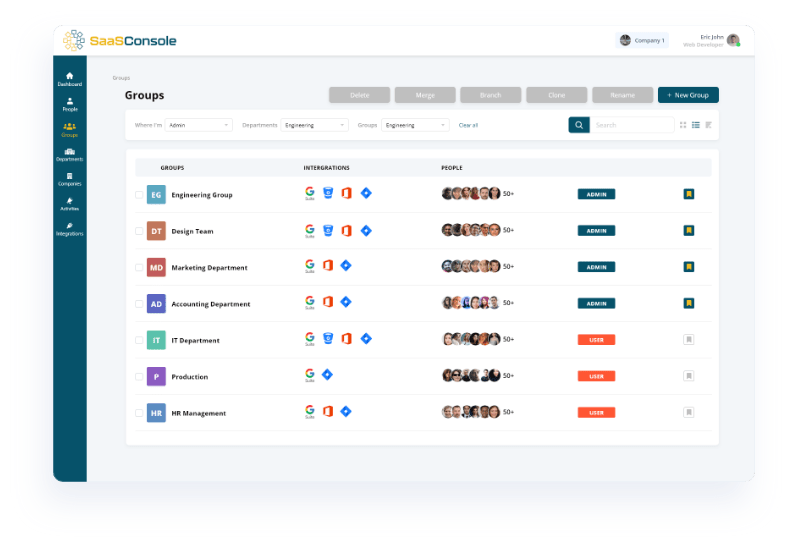 Manages Groups
of Users
Create any number of user groups, e.g. sales, engineering, etc., and then assign collections of SaaS apps with common rights. Now any change to apps applies to the whole group and any change to the group applies to all apps… management made easy!
Group Management.
Fast & Easy!
Add/remove users, add/remove/modify SaaS rights, even merge or split groups, all with the click of a button.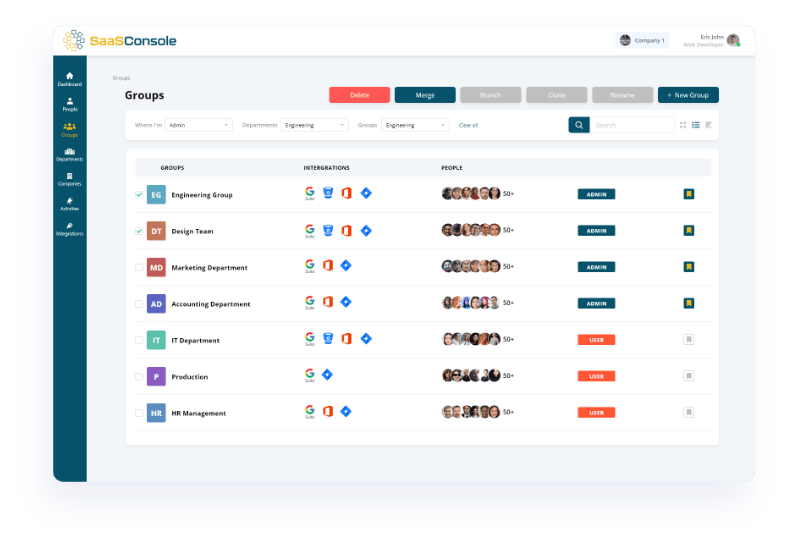 SaaSConsole Makes SaaS Management Easy
You'll never again onboard a new employee and spend hours getting them the correct SaaS apps, rights and roles. With SaaSConsole, onboarding, offboarding, changing apps, everything is fast and easy.

Get Value in Minutes
Setting-up SaaSConsole is fast and easy and then we handle the SaaS apps for you.

Learns By Your Actions
With every change you make,   SaaSConsole learns. Then is can start recommending and automating tasks.

Total Visibility
SaaSConsole shows you what your group members are doing with the various SaaS apps, making sure you're getting value from each one.
Notifications
Get notifications about activity in your groups and across the company.

Activity Logging
A common log per group gives you total visibility into how your groups are using their SaaS apps

Bi-Directional Sync
Changes made in your SaaS apps are reflected in SaaSConsole and changes made in SaaSConsole are reflected in your SaaS apps.
Intelligent Recommendations
SaaSConsole uses Artificial Intelligence to make smart recommendations about actions you might want to take. It is constantly learning in order to make your life easier.